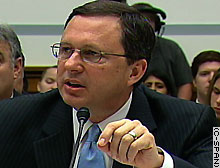 Why are all of George W.'s nicknames so demeaning?
Anyway according to emails
the head of FEMA sent during Katrina
, the whining never stopped for a minute. I've never seen such an amazing lack of tact in my life. Incompetance, sure. Cronyism, definitely. Laziness, uh-huh. Resentment in the face of being shaken out of laziness, absolutely. But sarcastic comments like "Can I go home now?" and "Sorry I'm not a superhero who could lift the entire city of New Orleans out of danger" just reek of no one telling this guy what to say. I thought that was unheard of in this day and age. But I guess if you're the one taking the fall, they're not going to send you a p.r. staff to do it.