Anyone who knew me in the 90's remembers this guitar: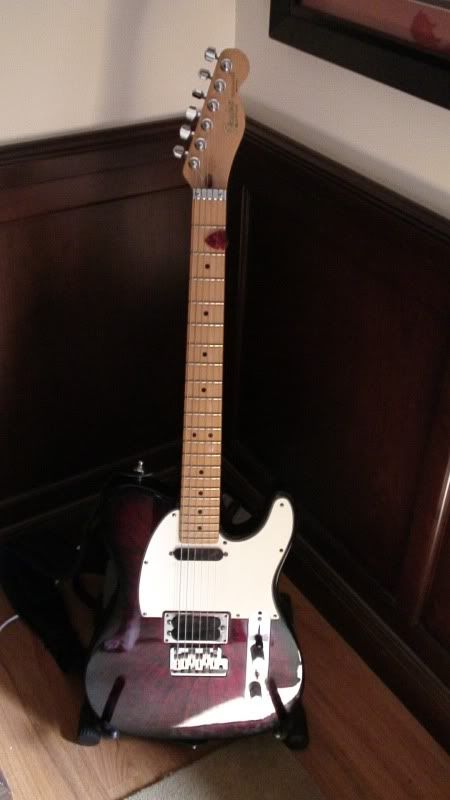 It was the only electric guitar I owned until 2002. It was beautiful, it sounded amazing and it weighed 11 pounds. Every guitarist that picked up exhaled quickly. In retrospect I was so hyper in my youth I needed a heavy guitar to keep me on the stage. But over the years it was way too much. Once I got a Les Paul (a freaking Les Paul) I put it down for the lighter guitar (the lighter guitar being a freaking Les Paul!).
I did love the Tele though and with this being such a strong guitar I couldn't justify another. On 2007 I added a Strat (first shown here):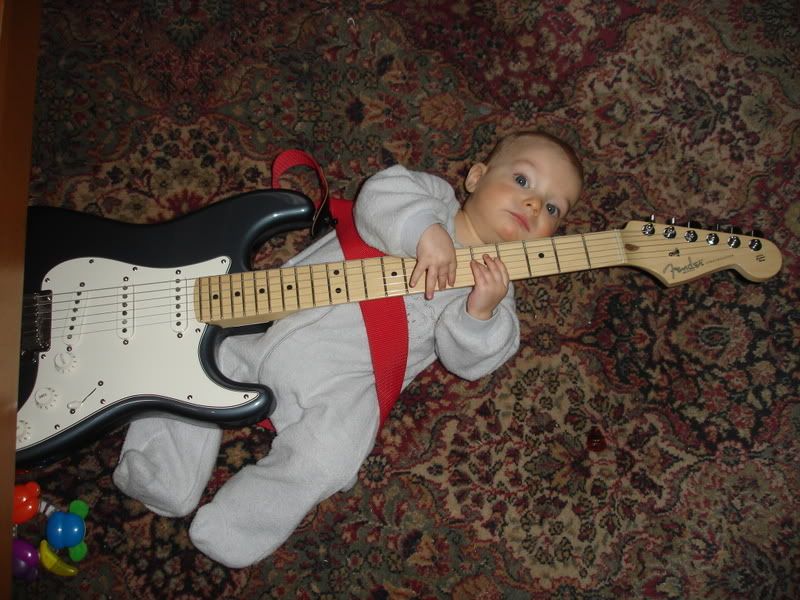 But it wasn't quite the same. I kept dreaming about a blond, banged up, snarly sounding Tele, like Keith Richards or Bruce Springsteen. Then early this summer, I saw a listing for a Tele on thegearpage.net. Blonde, light, with an American body and Mexican neck for $500. I pulled the trigger and after a frustrating two weeks where the guitar went to Astoria and reshipped to Chicago, I received it. And it wasn't right. The neck was chunky and sat high, the strings buzzed and the neck pickup was thuddy. A pro setup and new strings helped a little but gigging with it didn't get me to love it. So I went to work.
After a fret polish at the shop, the old neck went on. It felt great; a new body with a vintage neck that was broken in by my own hand. But it still sat too high. I measured the neck pocket. It was 1/2 an inch when it should have been 5/8". I don't know why I was feeling so adventurous but I went to Home Depot and bought a router. After a morning practicing on spare wood, I slowly and methodically erased 1/8" of wood from the neck pocket. The neck went back in and felt more natural. I put the non locking tuners from my Strat on the headstock (light and simple is the key to this guitar) and the whole thing felt great. But didn't sound so great.
Many players hate the lipstick tube neck pickup. Now I know why. While I always loved the look, the sound is dead and thuddy. It had to go. I researched a ton aftermarket lipstick tubes but a couple of recommendations put me straight. I needed a humbucker in there.
The PAF clones were an early idea but I eventually settled on a used TV Jones. And it was the right call. The neck setting just glistened and in the middle position; magic.
I ordered a humbucker pickguard but it didn't fit the smaller TV Jones. So I went back to the single coil guard and routed. And routed. And routed. It's not the prettiest cut but this guitar wasn't designed to be pretty. It was designed to be badass. I don't know what the bridge pickup is but it sounds great so it stays.
I'm slowly relicing the body by keeping it out of its case and near the cement foundation of the house. I'd like to minimize that 20 year gap between the neck and body.
After all that work, I now own this:
Ii sounds amazing. Strong, alive, bold and comfortable. Everything I want a guitar to be. I always wanted to build my own Tele. And this is as close as I could without carving the wood myself. I couldn't sell it if I wanted to. But I'll never want to.